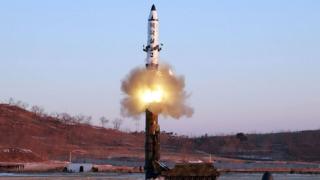 The BBC website reports:
"The half-brother of North Korean leader Kim Jong-un has been killed in Malaysia, South Korean and Malaysian sources say.

Kim Jong-nam, 45, is said to have been targeted at the airport in Kuala Lumpur, the capital. A source close to the Malaysian PM's office told the BBC that Mr Kim was killed in the city, saying his body was now undergoing an autopsy. Kim Jong-nam is the eldest son of former North Korean leader Kim Jong-il."
---
The US President Mr Trump says 'something will be done' about North Korea's somewhat provocative ballistic missile tests. Perhaps one imagines a pre-emptive strike on military facilities?
Easily done, but it's hard not to see the Chinese reacting badly.
Something a little more subtle is needed. Some virus, engineered to attach to cells expressing a certain genotype. Thanks to CRISPR, that kind of virus-editing seems quite practicable. A weaponised
flu variant
should do it.
How to get a copy of the Dear Leader's genome? You can go a long way with a half brother.
The other half of the mission is transportation. The US authorities should not be relying on a pandemic. A long range stealth-drone delivering a miniature RPV close to the OL should do it: something disposable and wasp-like.
Send a swarm: only way to be sure.
What are the chances the CIA has
this mission design
in front of the President
as we speak
?
---
Greg Cochran was
writing about jihadis
, but the principle seems to apply.