During the summer we will be driving around France. I imagine a hi-tech car park where you have to do something smart with your phone to pay for parking. What a hassle! Wouldn't it be nice to have a smart PA system on your phone which could just
sort the details
on your behalf. This would need a common interface standard: I wonder whether Google and Apple (
Siri
) could get together? Then I thought:
Google
? Do they even
have
a personal assistant?
Yes
.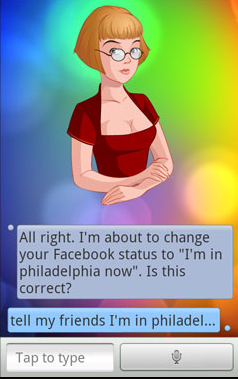 I have downloaded
the recommended system
to my phone and will shortly join that eccentric crew who talk to their phones with no-one at the other end. What ever next - "
Hey Glass
"?
Continued
:
chatbots
Talking Angela (above after skipping the ad) seemed the most polished of the smartphone chat bots, with its fancy avatar (a cat, Angela, in Paris) and its voice input/output. It installs easily enough on my phone but is a disappointment. It's a free app and makes its money by continually steering the conversation into money-making opportunities. Ask Angela to sing and a music-video type screen open up with some cute graphics and a prominent banner "
buy this song
"; try to focus the conversation onto your own problems in life and Angela will solicit a 'present' for a 'friend' of hers: it'll cost you.
As Lord Sugar would say, my search goes on ...
UPDATE: Tuesday June 18th 2013
Talking Angela
(perhaps we should call her grasping and avaricious Angela) didn't last long: within 24 hours she was uninstalled. The Google
'speaktoit' assistant
made it through to this morning when I was offered a '
Daily Briefing
' notification - when I tapped it, the avatar started briefing me in loudspeaker mode and an american accent - I was sitting in a crowded doctor's waiting room at the time. She got uninstalled in ninety seconds! To be fair, she was pretty incompetent answering queries: not at all a replacement for Google web search.